Overview
Toxic contaminants enter Puget Sound from a variety of pathways, including non-point sources such as stormwater runoff, groundwater releases, and air deposition, and point sources like marinas and sewage treatment plant outfalls. Stormwater is considered one of the biggest contributors to water pollution and can have serious impacts on the health of the Puget Sound, particularly in our urban nearshore areas. Monitoring these pollutants over time is critical for developing best management practices to reduce their impacts on our marine environment.
The Mussel Watch Program, coordinated by the Washington State Department of Fish and Wildlife (WDFW), involves using citizen science volunteers like the MRC to monitor nearshore contamination in Puget Sound. Cages of mussels are placed at dozens of monitoring locations scattered across Puget Sound, allowed to feed for several months, and then are retrieved for contaminant analysis. Results of the mussel collection and testing program are used to determine hot spots for certain contaminants and whether efforts to reduce them work over time.
Project Background
Mussels and other filter-feeding bivalves have been used to monitor contaminant conditions in the nearshore environment since the late 1970s. Mussels are used for the monitoring because they are native to our region, have limited mobility, and are filter feeders that accumulate contaminants in their tissue. Additionally, they lack the ability to metabolize or process most of the organic contaminants they absorb, so they concentrate everything from heavy metals to pharmaceutical pollution in their local environments. They accumulate contaminants in their soft tissues by ingesting and filtering contaminated food, sediment, and water. As such, monitoring mussels integrates exposure from both the water column and benthic (bottom) sources in the nearshore. Since mussels typically retain contaminants in their tissues for only two to four months, their contaminant loads reflect recent exposure.
The Snohomish County Mussel Watch program uses citizen science volunteers, including the MRC, to help determine locations for cages and to place and retrieve caged samples. The cages, which contain mussels from Penn Cove Shellfish's Coupeville farm, are placed at multiple locations along the County's marine shoreline during nighttime low tide events in the fall. The cages are anchored and secured to protect the mussels from predators and storm events. After several months, the cages are retrieved, their condition is documented, and the mussels are placed in coolers for transport to WDFW for processing.
The Mussel Watch studies are conducted on a biennial basis. Reports detailing the results of the testing are available from WDFW. The most recent report, which includes data from 2017/18 monitoring, can be viewed here.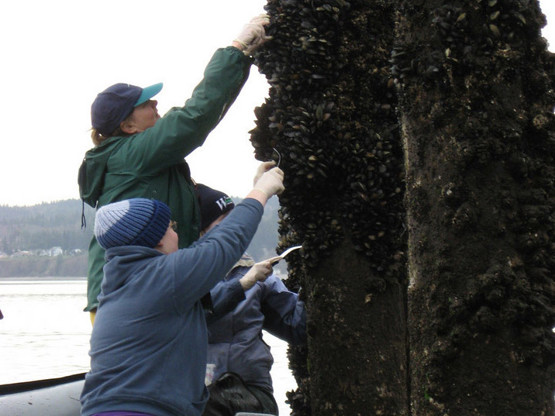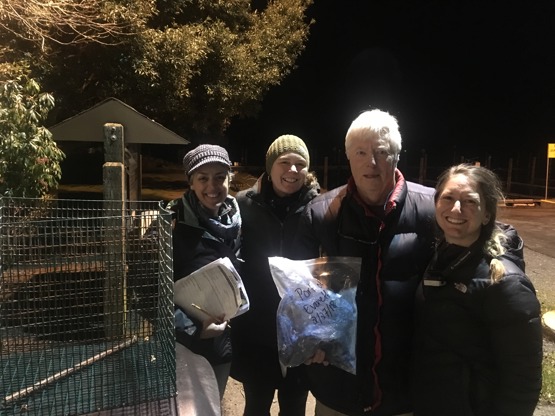 Data
Data trends from the NOAA and WDFW programs are used to monitor the impact of environmental contaminants and events such as oil spills and the effectiveness of management decisions. 
In Washington State, the TBiOS Mussel Monitoring program supports other local monitoring and adaptive management programs, such as the Puget Sound Partnership's Toxics in Aquatic Life Vital Sign, WDFW's Stormwater Action Monitoring, and NOAA's national monitoring program (NOAA Mussel Watch). 
The Snohomish County data show spatial differences between the more rural Port Susan to the north and the more urban developed area to the south of the Snohomish River.  Generally contaminants are lower to the north and higher to the south, with mercury being the exception.  There are also differences between wet and dry seasons.  These trends are presented in the Mussel Watch Report for a compilation of selected parameters. The report, completed in June 2011, summarizes data through Summer 2009. 
Mussel Watch surveys are also the basis for WDFW's Stormwater Action Monitoring. The first time the Mussel Watch program was incorporated into this program was the winter of 2015-16. Data was collected again in 2017/18, and most recently in 2019/20. The data from 2019/20 is still being analyzed, but the most recent report, which includes the findings from the two previous monitoring seasons, can be found here. The goal of this work is to establish a Puget Sound status and trends monitoring program, which will help inform local stormwater permitting.
Edmonds Ferry National Mussel Watch Site Mid-Intertidal Summertime Photo Series 
View the 2007-2012 Edmonds Ferry photo series. These photos were taken by Alan Mearns of NOAA.
These photos capture changes in mussel recruitment. Over time such photo series can be used to monitor cycles in conspicuous intertidal biota.  Photo series could be used to help better understand the interannual variations in mussel populations that Mussel Watch volunteers have observed at Snohomish County Mussel Watch sites.
Northwest Straits Commission (NWSC) Benchmarks Achieved:
Marine Water Quality, Science, Education & Outreach