Overview
Mussels and other sessile, filter-feeding bivalves have been used to monitor contaminant conditions in nearshore biota since the late 1970s. Mussels are a commonly used biomonitoring species because of their wide geographical distribution, large populations, sessile nature, and high filtering rates. Additionally, they lack the ability to metabolize most of the organic contaminants they absorb, so they reflect the profile of bioavailable pollution in their local environments. They accumulate contaminants in their soft tissues via multiple pathways including ingestion/filtering of contaminated food, sediments, and water, thus integrating exposure from both the water column and benthic sources in the nearshore. As they retain contaminants for approximately two to four months, their contaminant loads reflect recent exposure.
Project Background
The National Oceanic and Atmospheric Administration (NOAA) National Status and Trends (NS&T) Mussel Watch Program officially started in 1986. Building off of this program, the Snohomish County Marine Resources Committee launched a Puget Sound-focused version of this program, and has used mussels to monitor stormwater pollution since 2007. The Snohomish County Mussel Watch program uses citizen science volunteers to help determine locations for cages and to place and retrieve caged samples.
 From 2010 through 2012, the MRC worked with regional project partners from Washington Department of Fish and Wildlife (WDFW) and Washington Sea Grant on a pilot project for the regional expansion of the Puget Sound Mussel Watch program. The expansion project modeled Snohomish County's Mussel Watch program using citizen scientists for mussel collection. Mussels were successfully sampled at over 25 sites across Western Washington by citizen scientists from local volunteer groups and WDFW.
Now, the Mussel Watch program has been incorporated into WDFW's Toxics Biological Observation System (TBiOS) program. The TBiOS team monitors the geographic extent and magnitude of toxic contaminants in marine and salmonid species in Puget Sound and Washington's Pacific Coast. WDFW evaluates and tracks complex patterns of pollution in these ecosystems using a number of indicator species within the food web, representing a wide range of habitat and movement patterns. Results from these studies help guide efforts to protect fish and shellfish health, ensure food safety, and promote ecosystem recovery. Washington State Mussel Monitoring (aka Mussel Watch) is one of these programs, and performs a biennial survey to assess the status and trends of contaminants in nearshore biota.
The Mussel Watch program uses a clean aquaculture source of native bay mussels (Mytilus trossulus) that are transplanted to their monitoring locations in anti-predator cages. Advantages to using transplanted mussels instead of wild mussel populations include fewer limitations on study locations, a uniform starting population, a known exposure period, and the ability to measure and compare certain biological endpoints (growth, body condition, mortality). 
The report detailing the successful regional expansion of the Snohomish County Mussel Watch Program to the Statewide Mussel Watch Program is available from WDFW, and can be viewed here.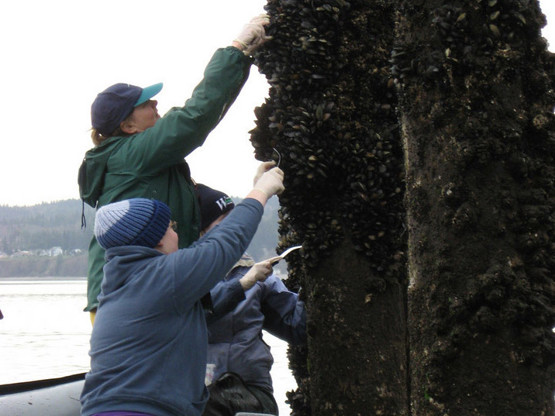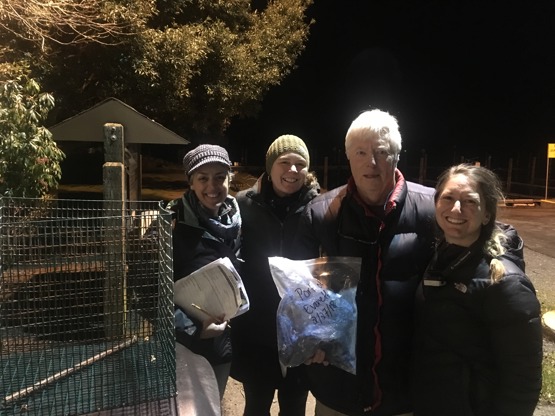 Data
Data trends from the NOAA and WDFW programs are used to monitor the impact of environmental contaminants and events such as oil spills and the effectiveness of management decisions. 
In Washington State, the TBiOS Mussel Monitoring program supports other local monitoring and adaptive management programs, such as the Puget Sound Partnership's Toxics in Aquatic Life Vital Sign, WDFW's Stormwater Action Monitoring, and NOAA's national monitoring program (NOAA Mussel Watch). 
The Snohomish County data show spatial differences between the more rural Port Susan to the north and the more urban developed area to the south of the Snohomish River.  Generally contaminants are lower to the north and higher to the south, with mercury being the exception.  There are also differences between wet and dry seasons.  These trends are presented in the Mussel Watch Report for a compilation of selected parameters. The report, completed in June 2011, summarizes data through Summer 2009. 
Mussel Watch surveys are also the basis for WDFW's Stormwater Action Monitoring. The first time the Mussel Watch program was incorporated into this program was the winter of 2015-16. Data was collected again in 2017/18, and most recently in 2019/20. The data from 2019/20 is still being analyzed, but the most recent report, which includes the findings from the two previous monitoring seasons, can be found here. The goal of this work is to establish a Puget Sound status and trends monitoring program, which will help inform local stormwater permitting.
Edmonds Ferry National Mussel Watch Site Mid-Intertidal Summertime Photo Series 
View the 2007-2012 Edmonds Ferry photo series. These photos were taken by Alan Mearns of NOAA.
These photos capture changes in mussel recruitment. Over time such photo series can be used to monitor cycles in conspicuous intertidal biota.  Photo series could be used to help better understand the interannual variations in mussel populations that Mussel Watch volunteers have observed at Snohomish County Mussel Watch sites.
Northwest Straits Commission (NWSC) Benchmarks Achieved:
Marine Water Quality, Science, Education & Outreach