Forage Fish Spawning Surveys
In conjunction with the Nearshore Restoration Project, the MRC conducts pre-restoration monitoring of forage fish spawning within the project reach between Mukilteo and Everett. Forage fish species, including Pacific sand lance (Ammodytes hexaptarus), surf smelt (Hypomesus pretiosus), and Pacific herring (Clupea harengus), play a vital role in the marine food web by providing food for a variety of birds, mammals, and fish. Forage fish depend on the nearshore area for spawning and rearing. The MRC forage fish spawning surveys focus on two species, surf smelt and Pacific sand lance, which lay eggs on intertidal sand-gravel beaches in the nearshore  environment. The results of the study will update forage fish spawning information for Snohomish County and provide baseline data for the proposed restoration activities. 
For more information on forage fish, click here to view our forage fish factsheet.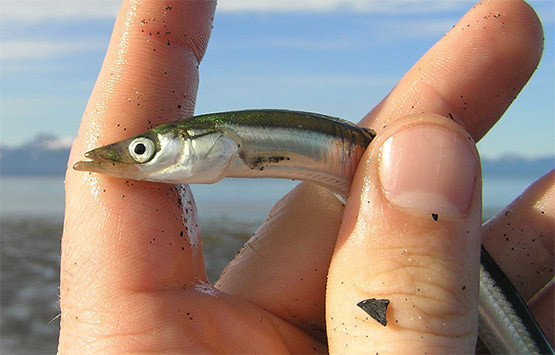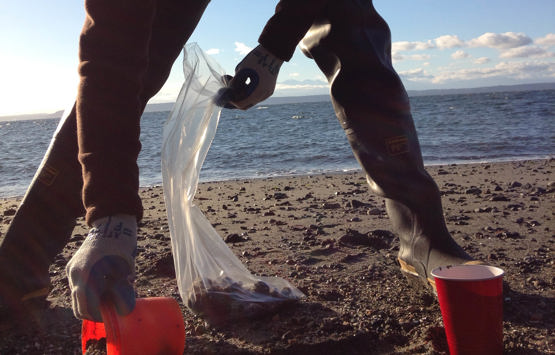 Surveys
Forage fish spawning surveys have been conducted each winter beginning in 2011 to look for the presence or absence of forage fish eggs. Surveys are conducted by MRC staff and citizen science volunteers including WSU Snohomish County Extension Beach Watchers and MRC members. All volunteers attend a fall training led by Dan Penttila of Salish Sea Biological. The spawning surveys protocol follows the Washington Department of Fish and Wildlife's (WDFW) methodology for collecting and counting surf smelt and Pacific sand lance eggs within the project area. Sampling occurs monthly from October – February within the project area, along the shoreline between Everett and Mukilteo. Sampling is conducted along 13 fixed 100 foot long transects parallel to the water line.
Within two days of collection, the composite samples are wet-screened and 0.5mm-2mm egg sized material is retained. Through a process commonly referred to as winnowing, the screened samples are then placed in rectangular dishpans and winnowed to separate finer grained sediments, to which the forage fish eggs adhere, from coarser sediments. The resulting "winnowed light fraction" samples are preserved and delivered to Dan Penttila for laboratory analysis.