Port Susan Marine Stewardship Area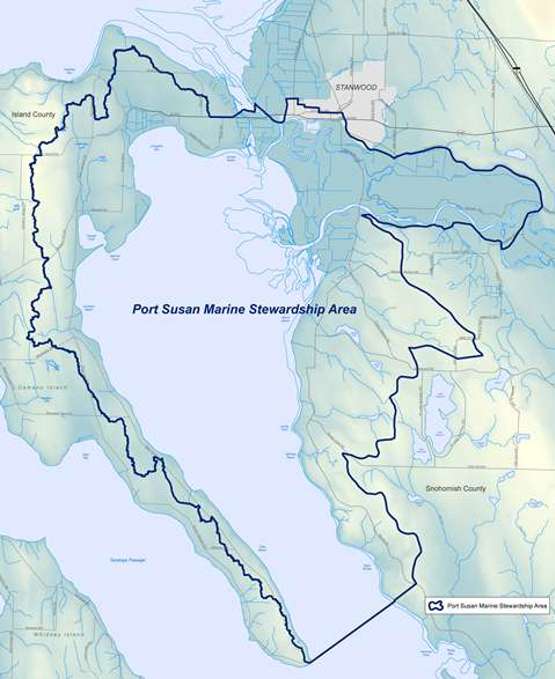 What Is A Marine Stewardship Area?
A marine stewardship area (MSA) is a conservation designation that works to generate responsibility among the relevant authorities and users of marine environments for the conservation of the natural, cultural, and scenic value. The MSA designation encourages citizen participation and a shared community vision, though the designation carries no regulatory authority.   
Designation of the Port Susan Marine Stewardship Area (PSMSA) and adoption of a community based marine stewardship plan defines a community vision for enhanced stewardship of Port Susan. This allows for a greater shared understanding of the marine environment and ensure Port Susan continues to provide diverse benefits for people and wildlife. Enhanced stewardship encourages protection of marine resources through education, citizen science, voluntary measures, increased communications and partnerships, strong leadership and coordinated enforcement of existing regulation.  
Conservation Action Planning
The Nature Conservancy's Conservation Action Planning (CAP) process was used to guide development of a community-based marine stewardship plan for the Port Susan Marine Stewardship Area. 
At a joint meeting in Coupeville on December 6, 2011 the Snohomish and Island County MRCs voted unanimously to support the Port Susan Marine Stewardship Area Conservation Action Plan and take it to their elected officials for approval.  
The plan aims to achieve a healthy marine and estuarine ecosystem with thriving biodiversity and strong recreational and resource based industries. The CAP document describes the planning process and includes the identified conservation targets, threats, and strategies. 
In 2014, the MRC worked to develop a report card to highlight partner progress on the strategies identified in the CAP. The goal of the report card is to reconnect Port Susan partners, share and demonstrate successes across the landscape, and to galvanize new efforts.
More information on the Conservation Action Planning efforts in Port Susan can be found in the following documents: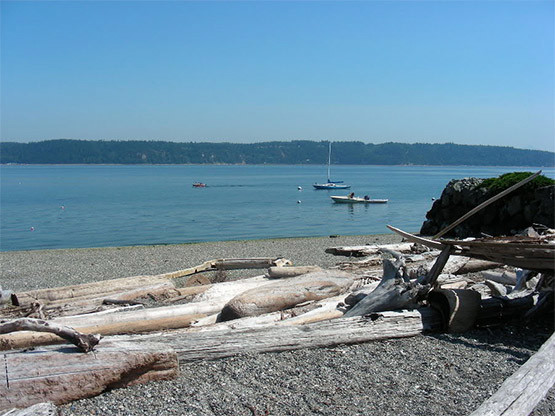 Port Susan 10-year Plan Revisit
In 2021 the Snohomish County Marine Resources Committee (MRC) partnered with the Island County MRC to reconvene partners, assess the current status of the CAP, and identify opportunities to support conservation activities in Port Susan for the next decade and beyond. The information gathering presented here is Phase 1; Phase 2 will build from this information and focus on partner engagement in 2023. 
Island County MRC and the Snohomish County MRC partnered with UW Evans School Student Consulting Lab who completed a comprehensive review of the 2012 CAP.  Their findings are below:
Port Susan Incentives Project
In 2014, the MRC worked with Futurewise to develop recommendations for shoreline incentive programs that could improve nearshore habitat. Through a stakeholder process involving interviews and a workshop, 29 potential shoreline landowner incentives were explored for feasibility and potential success in Snohomish County. Out of that process, four incentives were ranked highest as potential approaches:
Establishing a Beach Management District
Creating a Shorelines Education and Technical Assistance Program
Offering Focused Shoreline Grants or Cost-Share Awards to Landowners
Adding a Shoreline Component to Conservation District's Program
Work with stakeholders suggested that multiple incentives could be combined to create a program that includes three key elements: funding, permitting/technical assistance, and education/demonstration. A complete summary and analysis of this effort can found in the Port Susan MSA Incentives Report. 
2012 Puget Sound Champions Award Recipient
In 2012, the Snohomish County MRC and project partners, including the Island County MRC, Tulalip Tribes, the Stillaguamish Tribe, The Nature Conservancy, WSU Extension of Snohomish and Island Counties, and Washington Sea Grant, were presented as Puget Sound Champions in recognition of the successful development of the Conservation Action Plan for the Port Susan Marine Stewardship Area. 
The award was presented during the Snohomish and Stillaguamish Watershed Local Integrating Organization (LIO) meeting held on January 7, 2013.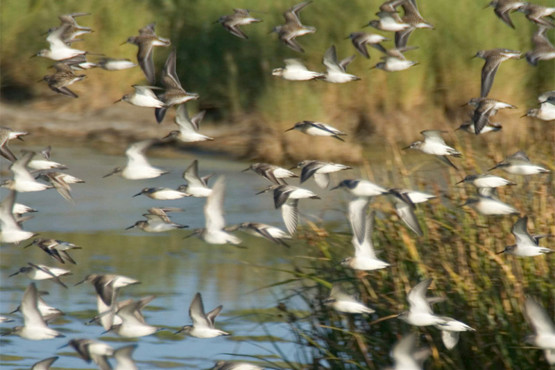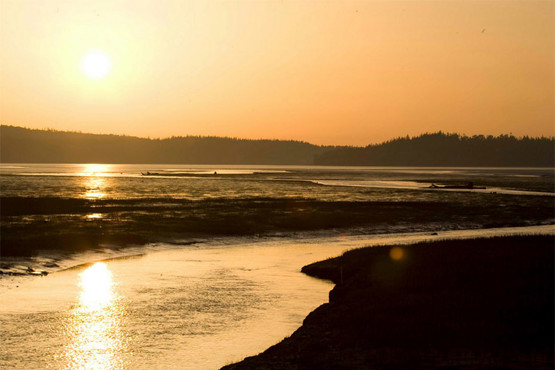 Related Articles
Resources
Northwest Straits Commission (NWSC) Benchmarks Achieved:
Education & Outreach, Science, Marine Habitat, Marine Life, Marine Water Quality
References:
Floberg, J., M. Goering, G. Wilhere, C. MacDonald, C. Chappell, C. Rumsey, Z. Ferdana,A. Holt, P. Skidmore, T. Horsman, E. Alverson, C. Tanner, M. Bryer, P. Iachetti, A. Harcombe,B. McDonald, T.Cook, M. Summers, D. Rolph. 2004. Willamette Valley-Puget Trough-Georgia Basin Ecoregional Assessment, Volume One: Report. Prepared by The Nature Conservancy with support from the Nature Conservancy of Canada, Washington Department of Fish and Wildlife, Washington Department of Natural Resources (Natural Heritage and Nearshore Habitat programs), Oregon State Natural Heritage Information Center and the British Columbia Conservation Data Centre.