Earth Day Shoreline Cleanup picks up over 900 pounds of litter!
As part of the Plastic Free Salish Sea campaign, the MRC hosted a shoreline cleanup with WSU Snohomish County on Earth Day, April 22!
554 pounds of trash were picked up on Earth Day and brought to one of our 5 sorting locations!
Arlington, Twin Rivers Park: 234 pounds
Edmonds, Esperance Park: 104 pounds
County Campus: 53 pounds
McCollum Park: 56 pounds
Monroe, Fairfield Park: 107 pounds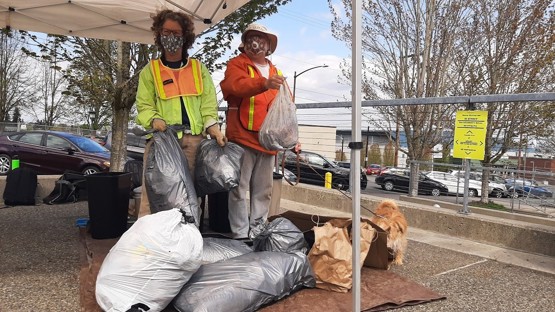 Another 360 pounds of litter were picked up by volunteers as well as the Washington State Department of Natural Resources Washington Conservation Crew. While these folks weren't able to drop it off at one of our sites, they did do their own sorting and provided valuable data to our efforts! Much of what was picked up were plastic bottles and aluminum cans. Food packaging, dog poop bags, and face masks were also documented. The data collected by the MRC will be shared with local partners in an effort to document to types of debris impacting our waterways. For more information about how trash is impacting our waterways, check out the Plastic Free Salish Sea Campaign and EPA's Trash Free Waters.
Thanks to everyone who showed your local water body some love this Earth Day. This was a great inaugural event and we hope to do it again!
Suggested Shoreline Cleanup Locations
You don't have to wait until next Earth Day to get involved and make an impact on the health of our shorelines! 
See the map below for suggested shoreline cleanup locations that you can visit year-round!
Note: Locations shown on the map with a yellow icon require paid parking.