Washington State University Snohomish County Extension Beach Watchers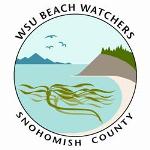 The MRC supports the WSU Snohomish County Extension Beach Watchers program through grants to facilitate training and volunteer education opportunities. 
The Beach Watchers program recruits and trains individuals to provide at least 100 hours of volunteer service over two years acting as educators, researchers and project leaders on behalf of Puget Sound protection.  There are over 80 Beach Watcher volunteers in Snohomish County. Following their mission, "WSU Beach Watchers are dedicated to protecting our waters through research, education and stewardship."
In 2015, WSU Snohomish County Beach Watchers contributed over 5,150 hours of service, resulting in over 15,000 face-to-face contacts!  Beach Watchers are active in education programs, research and monitoring projects, stewardship programs. WSU Snohomish County Beach Watchers provide extensive volunteer hours to MRC projects.  These volunteers engage crabbers through the Recreational Crabber Education program, conduct Kayak Point Park pre-restoration monitoring, assist with data collection for forage fish spawning surveys and Mussel Watch, and support outreach at Beach Expos.
Click here to learn more about Beach Watchers and to learn more about the 2020 training program.